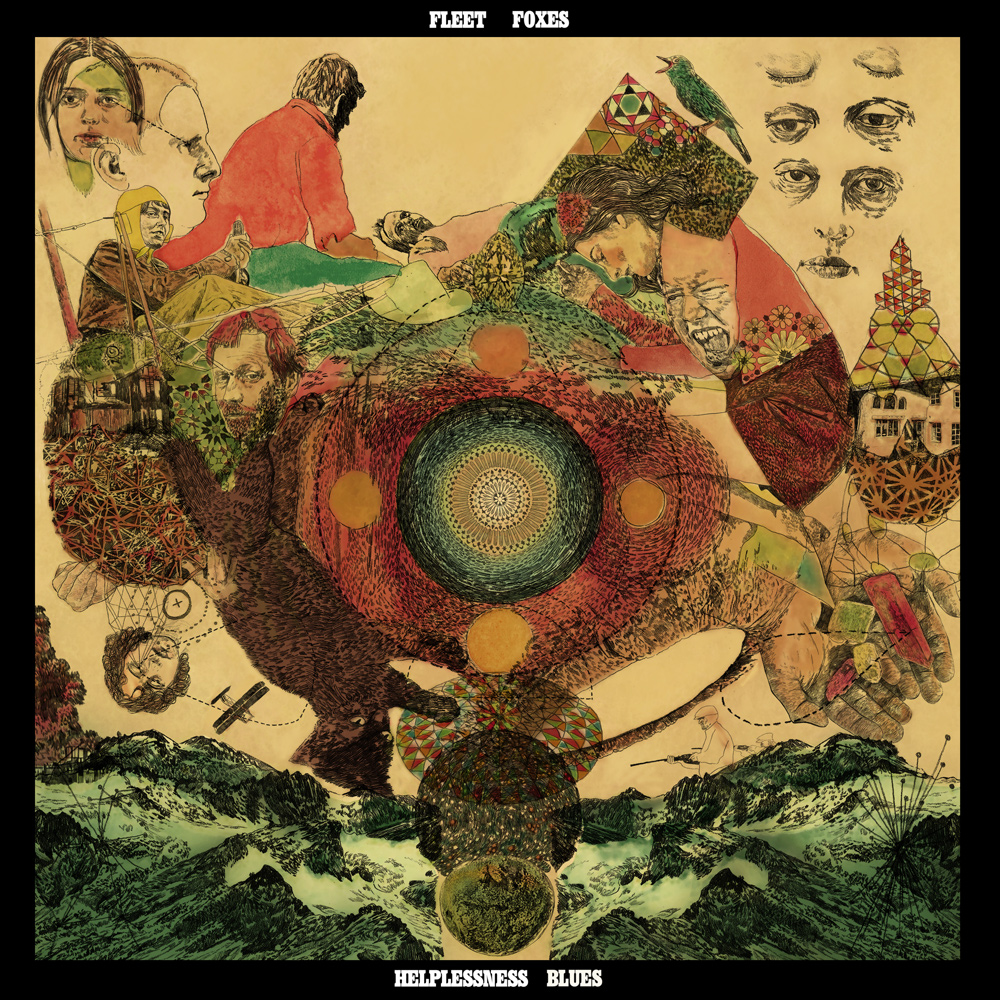 Sorry for the delay on today's post and the site being down for a little while. Radculture.com was undergoing some maintenance to make it more rad.
Back in 2008 Fleet Foxes showed me folk could be cool thanks to their self-titled album. "White Winter Hymnal" allowed hipster men to show women their "sensitive side", and to this day is my personal musical reminder that it's the holiday season. Robin Pecknold's voice is incredibly unique in that it creates vocal harmonies that almost sound like it is its own instrument. It's super smooth and has an ability to be really loud without overpowering the background sounds.
The sound that Fleet Foxes creates is unlike anything I've heard before. Let's just say if hipster were into LARPing they would have a ball with this stuff. Helplessness Blues is the perfect maturation for the band's sound. The album is a tad slower and maybe a little less catchy than their previous self-titled, but where it lacks some of those more upbeat moments, it makes up with immense polish and refined vocals.
One thing Fleet Foxes does well it their lyrical messages match perfectly well with the tone of the songs. Lyrics concerning nature's finer moments and what it means to be human accompany the instrumentals with immense fluidity. The albums self-titled song "Helplessness Blues" is the albums most complex, and also the most emotional. The song has this amazing slow intro that finishes with Pecknold's smooth, loud bellows. In the songs 2nd half offers its own experience and message fits perfectly within Fleet Fox's complex. "If I had an orchard, I'd work til I'm sore."
"Lorelai" is another great moment for the album. I feel like this song would fit well with laying on a hammock overlooking some grand lake, swaying perfectly in tune to the songs lofty guitar and vocals.
The albums best song: "Grown Ocean" on first listen instantaneously made me think what a perfect companion it would be to some out west road trip. The song  came full circle for me this past summer when I was in Israel. We were driving in the Northern Golan Heights. I woke up from my nap coincidently when this song came on, I looked out my window and saw the endless sprawling mountains of Israel. The smirk that came upon my face is one that I will never forget. It's music like Fleet Foxes that carries that special sound that allows each moment to work as well as a time capsule reminder as much as a song when it's heard again.
"In that dream I'm as old as the mountains
Still is starlight reflected in fountains
Children grown on the edge of the ocean
Kept like jewelry kept with devotion.
Must Listen: "Grown Ocean"
Runner-Up: Lorelai"